Youthful energy permeates this Kansas college town
If the university is the heartbeat of the town, then Massachusetts Ave. is the artery that serves it. Buildings dating back more than a century are now chic restaurants, law offices and boutiques.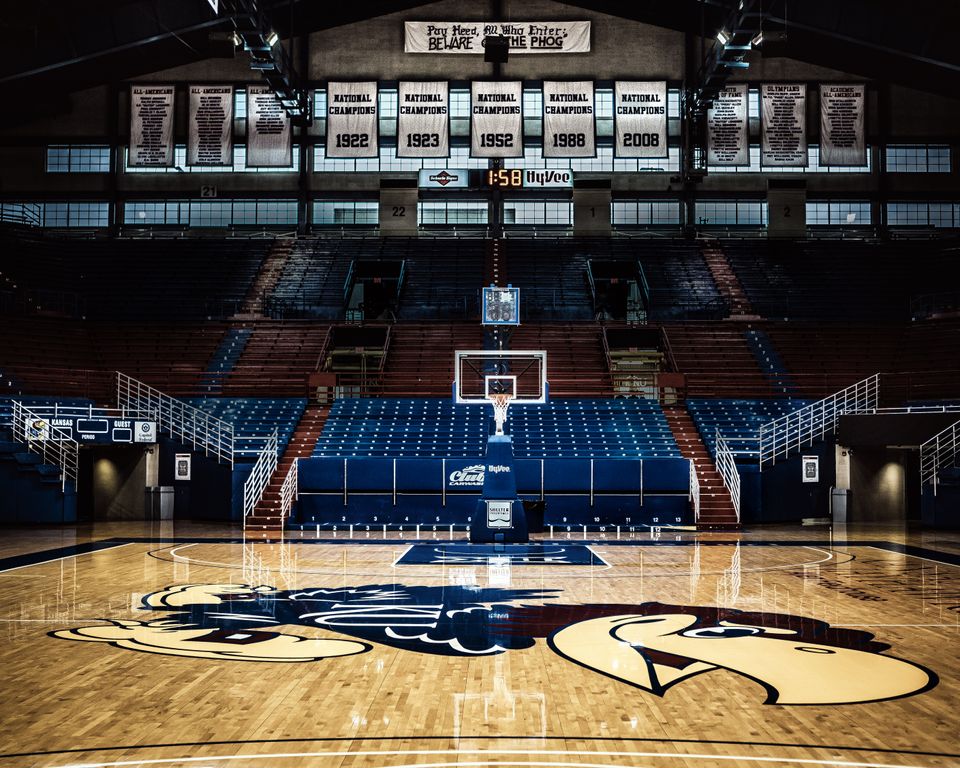 THE TOWN HAS fallen back asleep. At the time of our visit, it's been more than two weeks since a raucous party bounced and heaved its way in a sea of crimson and blue. Massachusetts Ave. was overflowing with people that day, waving signs and flags and fingers. The newly crowned NCAA champion Jayhawks paraded through town, lauded by the masses for conquering college basketball.
Aerial photos made Lawrence, Kansas, look like a major city had just won a championship, with estimates of 80,000 flooding the thoroughfare. But today, the town is snoozing. Although it doesn't take much for the energy to return. In a couple of hours, a star from that team will walk into Jefferson's, a chicken and wings joint popular with University of Kansas students. People will notice, asking for autographs and photos.
Forty-five minutes from Kansas City (the one in Missouri), Lawrence is a prototypical flyover state college town. KU is a member of the Big 12 conference, but that is merely its station. The town and the campus vibe could easily pass for Big 10.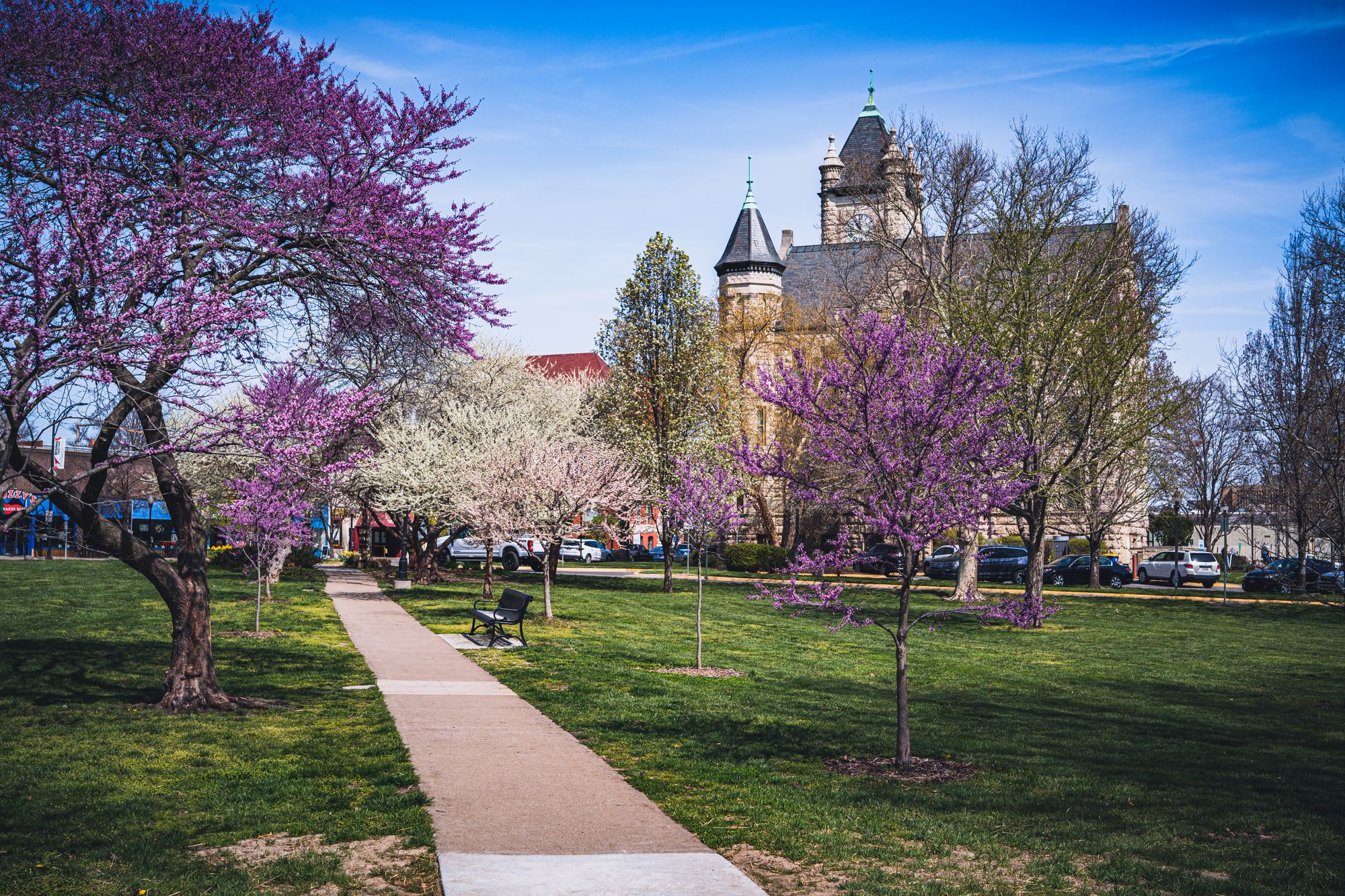 Avenues of older homes line streets laid out in neat squares. Pockets of hotels sprout near the interstate exits. Accommodations with more grandeur can be found on campus. Lawrence is home to 95,000 people. The university boasts more than 28,000 students. It has a little bit of everything: charm, strip malls, campus bars, homeless people.
If the university is the heartbeat of the town, then Massachusetts Ave. is the artery that serves it. Buildings dating back more than a century are now chic restaurants, law offices and boutiques.
For breakfast, The Roost offered a taste of young and old. At the bar, we ordered breakfast, while the hip bartender/waitress didn't flinch at a tequila-for-breakfast joke. Behind us, along the back walls, square tables of four were filled with elderly couples — likely retired farmers or professors or shop keepers — enjoying the fare, the company and sharing news of the day.
Throughout our 48 hours in town, walking both sides of Massachusetts Ave. offered more stories to be told. An elderly man walks out of a store and startles me by yelling "Take my picture!" I did, although missing focus, rattled by his enthusiasm at 10 a.m. Spring has arrived. An overnight rain provided a fresh sheen to blossoming trees — some purple, some white, some green.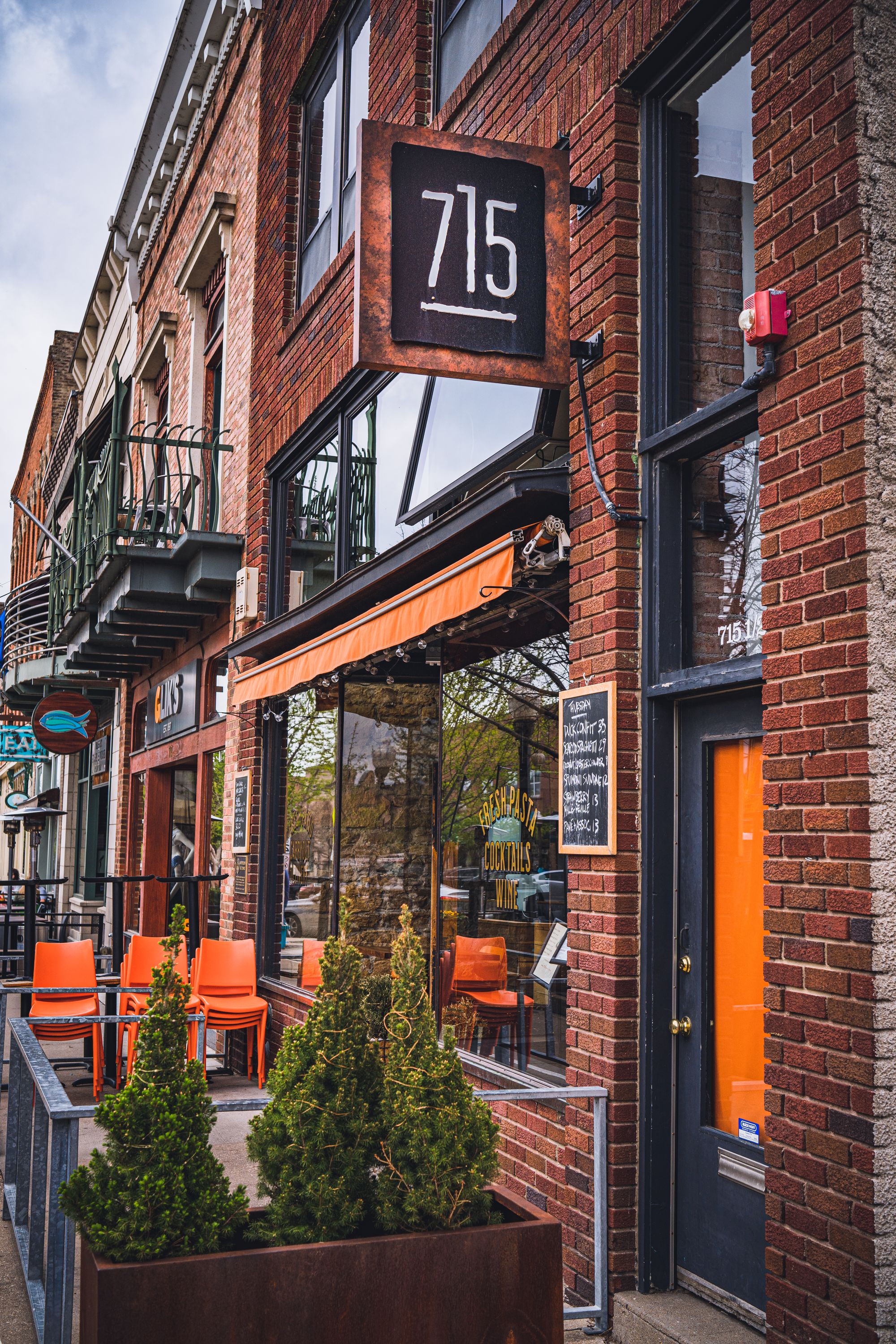 An old theater marquee congratulates the heroes of the day. An old-timey band plays outside a bookstore to an audience of five. Two in camping chairs, three leaning on concrete flower beds.
There are more cars parked along the street than visible people. Perhaps they are working. Or just enjoy feeding the meters.
We grab the car and drive toward campus. A right turn on E. 14th St. takes us up a hill. The Wheel advertises $3 beer. They make pizza, too. Two blocks further, the epicenter of academia at KU comes into view.
The campus is buzzing. Students are darting in front of cars, walking down paths and criss-crossing open grassy areas. Buses are spewing diesel, first at this stop, then at that one. Construction workers are pounding and rattling machinery. Rock Chalk banners adorn lamp posts. The Oread Hotel, ever premium, is as stately as Wayne Manor but seems out of place, rising above homes on a hill overlooking the football stadium.
Kansas has always been a basketball school, despite the hires of Charlie Weis and Les Miles to turn football into a thing. So pay heed at Allen Fieldhouse. Opened in 1955, it's a grand old barn that seats 16,000 for basketball.
In all, Lawrence is an oasis in a state best known for tornadoes and wheat. It provides youthful energy to an otherwise aging demographic. So if you have a thing for college towns, take a flyer on the home of Baby Jay.
The Barrel
Free State Brewing is right on Massachusetts Ave, and they are prolific. The taps flow 13 beers. It's a college town, and your ability to crush 'em will be judged. Try the Free State Lager. Even the website acknowledges its crushability.
The Bomb
Breakfast at The Roost was pretty legit. The potato cakes were savory, served with scrambled eggs, thick cut toast and jam (plus a side of sour cream).
Recommended Soundtrack
The Turnpike Troubadours are not from Kansas, but rival Oklahoma. After a long self-imposed hiatus, they're touring again and it's time to revisit their finest works.