Beneath Hole's 'Celebrity Skin'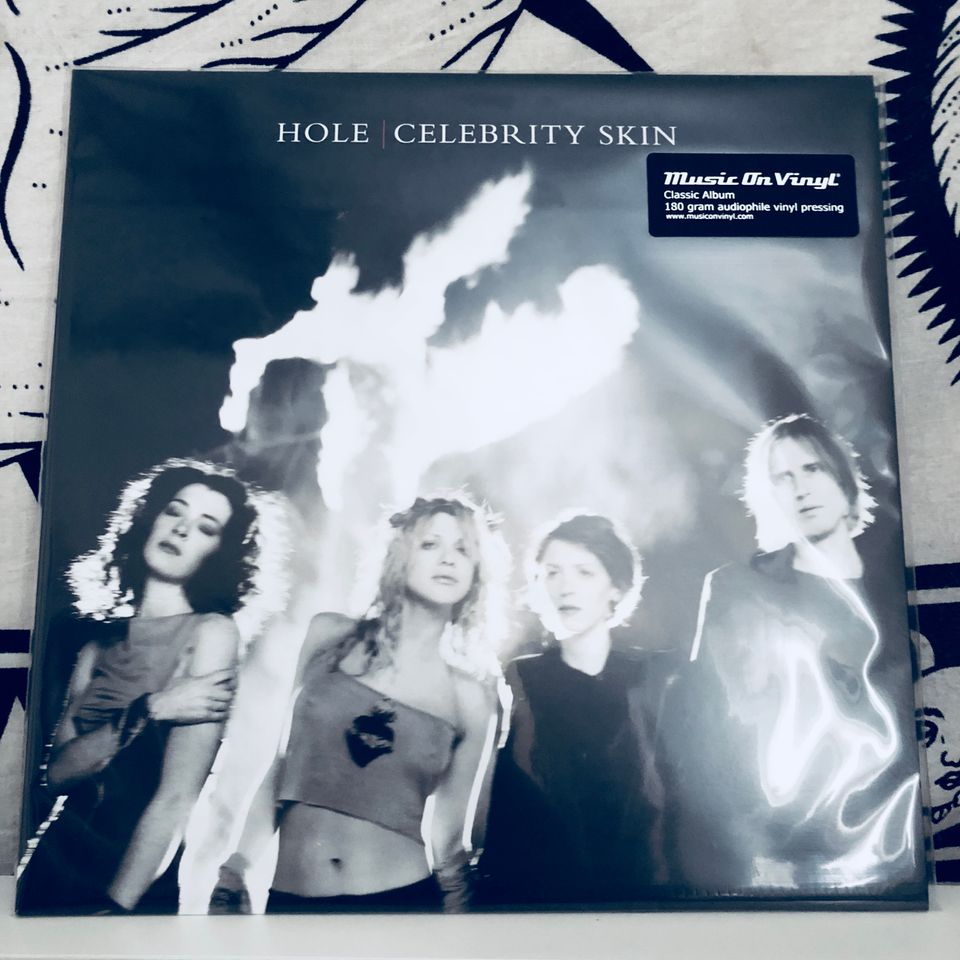 COURTNEY LOVE HAS been called a lot of things. And we won't send a team down that rabbit hole. But one thing she is rarely celebrated for is her musicianship.
The front-woman for Hole and former wife of Nirvana's Kurt Cobain, Love wrote all the lyrics for this album, the band's third and final collaboration (Hole's 2010 release 'Nobody's Daughter' featured none of the original band aside from Love).
Conceived as a "California album" in 1997, most of the songs bleed lyrical satire and tribute to the Golden State's most obvious societal offering: fame. It took the band a grueling nine months to record 50 minutes of highly underrated tunes. Studios in Los Angeles, New York and London held court for Love, bassist Melissa Auf der Maur, guitarist Eric Erlandson and drummer Patty Schemel.
Never one to run from drama, Love was convinced by producer Michael Beinhorn to ditch Schemel in the studio in favor of sessionist Deen Castronovo. It was a decision Love later came to regret, as it was the catalyst for Schemel ultimately leaving the band for good.
At the time of its release, 'Celebrity Skin' was hailed by critics and adored by fans. It sold more than 1.4 million copies, spawned a No. 1 hit in the title track, and reached No. 9 on the Billboard album charts in 1998.
Love also tapped one-time lover Billy Corgan of Smashing Pumpkins as a guest artist, and he managed to co-write musical arrangements on five songs. Also guest starring was Go Go's guitarist Charlotte Caffey and Jordan Zadoronzy, a former bandmate of Auf der Maur, who was also playing bass for the first time on a studio album for the band.
In all, 'Celebrity Skin' is best described by The Guardian's Rebecca Nicholson: "Celebrity Skin's aesthetic is caught up in that turmoil of competing identities, a push-pull of glossy glamour and its seedy underbelly. For all the slickness of Michael Beinhorn's production and the big-budget videos that accompanied its singles, the songs remain raw and cynical, as wary and worn as they are defiant."
Must-listen tracks:
Track 4 - Malibu
Track 6 - Use Once and Destroy
Track 9 - Boys on the Radio
🛢🛢🛢🛢/5. Available everywhere since Sept. 8, 1998.